Customized Nutrition
Do you want to feel better?
Do you wish your clothes fit differently?
Have you hit a performance, weight loss or other plateau?
Do you want to take control of a diagnosis such as high blood pressure, diabetes or high cholesterol?
If you're sick and tired of being sick and tired, you've come to the right place. At BioIntelligent Wellness, we connect the dots between your symptoms and real solutions to create customized nutrition plans unique to you and your lifestyle.
Metabolism Testing
(aka Resting Metabolic Rate Testing)
There's no such thing as "average" when it comes to your metabolism…Resting Metabolic Rate Testing (RMR) is FDA-approved testing that measures your unique personal daily caloric requirements and determines the daily number of calories you need to lose, maintain or gain weight and support athletic performance. Scientific studies show that even people of similar height, weight, age, and body composition can have very different metabolic rates. Even the most "accurate" estimations can vary by up to 40%.
Metabolism Testing shows you how to properly feed YOUR body in a way that achieves your composition goals, conquers plateaus and improves your health without sacrificing energy or training intensity.
Ideal Protein
Ideal Protein is a four-phased, medically designed protocol that promotes rapid fat loss while maintaining lean muscle mass. With weekly one-on-one coaching sessions, our patients lose an average of 3-7 pounds per week!
Learn to live off of the body's own fat reserves! The Ideal Protein Weight Loss Method is an easy, 4-phase, medically-designed protocol that helps stabilize the pancreas and blood sugar levels while burning fat and maintaining muscle and other lean tissue.
SIBO Dietary Protocol
If you've been diagnosed with Small Intestine Bacterial Overgrowth (SIBO), we can help support your physician's treatment plan with a proven, 4-stage dietary protocol.BioIntelligent Wellness takes the guesswork out of SIBO treatment by creating an efficient and effective, customized diet plan with meal planning resources and providing experienced support for all stages of treatment.
The first stage is to support treatment. Stage two is designed to starve the bacterial overgrowth. Stage three is designed to begin reintroduction and prepare the body for biome testing and the fourth stage is focused on creating a lifestyle program to help your take control and avoid regrowth.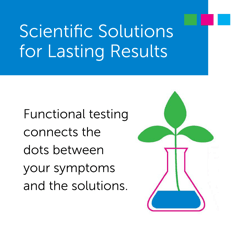 Functional Testing
Which supplements do you REALLY need?
Could your food and "healthy diet" be making you sick?
Are you stressing yourself fat, sick, and tired?
Is your body's stress response system out of sync?
Today's fast-paced, multi-tasking lifestyle doesn't help matters. We use non-invasive laboratory tests to allow us to understand and proactively focus on optimizing the body's fundamental physiological systems. We believe that early detection of hidden stressors reaches far beyond the alleviation of symptoms and is the key to creating lasting solutions.