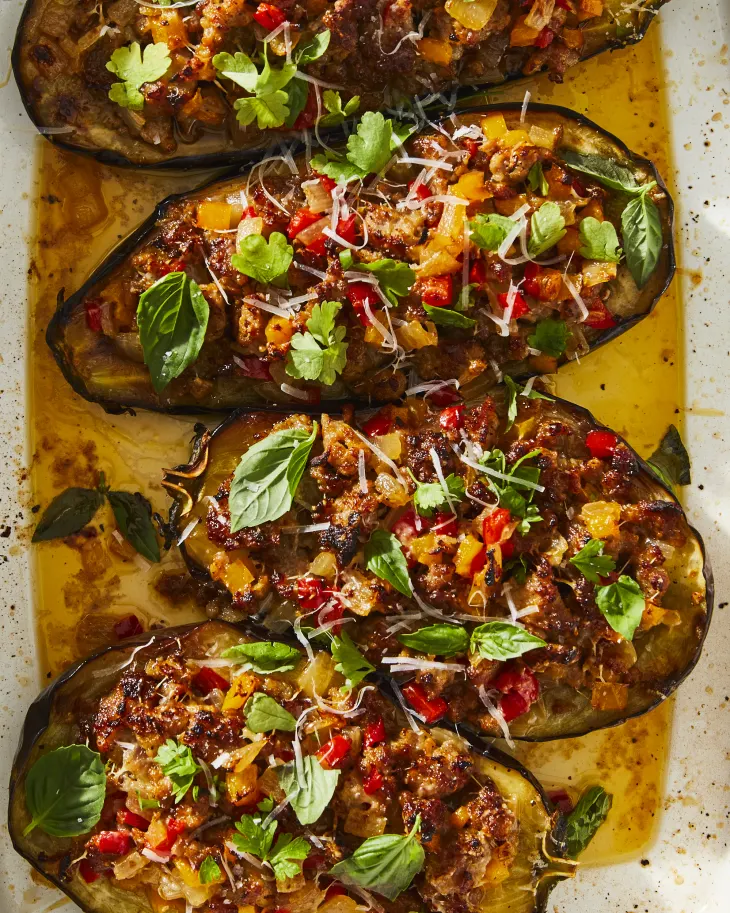 Chicken Stuffed Eggplant
Looking for a delicious and healthy way to satisfy your cravings? Look no further than Chicken Stuffed Eggplant! This savory dish combines tender and juicy chicken with flavorful eggplant, seasoned to perfection and stuffed with a delicious blend of herbs and spices. The result is a mouthwatering dish that is both satisfying and nutritious.
Allowed for all Ideal Protein phases. Give it a try right away.

Ingredients
1 eggplant
1 tbsp. olive oil
1 cup baby bella mushrooms (sliced)
3 cloves garlic (minced)
1 lb ground chicken
½ tsp. dried oregano
½ tsp. sea salt
½ tsp. black pepper
⅓ cup roasted red peppers roughly (chopped)
1/4 cup fresh basil (chopped)
1/4 cup IP balsamic vinegar

Preparation
Step 1
Preheat the oven to 400°F
Step 2
Cut the eggplant in half lengthwise and scoop out the flesh, leaving about 1/4 inch of flesh in the skin. Place the eggplant halves on a baking sheet lined with parchment paper and sprinkle with salt. Set aside.
Step 3
In a large skillet over medium-high heat, heat the olive oil. Add the chicken and cook until browned, about 7 minutes. Add the garlic and cook for 1 minute. Pour in the IP balsamic vinegar and let it reduce for 2-3 minutes. Remove from heat.
Step 4
Stir in the roasted red peppers and basil to chicken and mix.
Step 5
Place the eggplant halves in a baking dish and stuff them with the chicken mixture. Drizzle a little olive oil on top and roast for 30-35 minutes until tender.