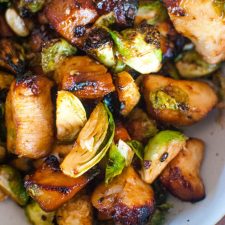 Blackened Chicken and Brussels Sprouts Skillet
Blackened Chicken and Brussels Sprouts Skillet is a delicious and healthy one-pan dish that is not only easy to make, but it is also packed with protein and fiber, making it a perfect dinner option for a busy weeknight or a healthy meal prep recipe.
Allowed for all Ideal Protein phases. Give it a try.

Ingredients
1 Tbsp. Paprika
1 Tsp. Chili Powder
1 Tsp. Italian Seasoning
1/2 Tsp. Onion Powder
1/2 Tsp. Garlic Powder
1/2 Tsp. Salt
1/2 Tsp. Pepper
2 Tbsp. Olive Oil
1 lb. Chicken Breast
1 lb. Brussels Sprouts
1/3 Cup Chicken Broth
1 Tbsp. Garlic, Minced
2 Tsp. Hot Sauce

Preparation
Step 1
In a small bowl, mix together the chicken breast, paprika, chili powder, Italian seasoning, onion powder, garlic powder, salt, and pepper.
Step 2
Heat the olive oil in a large oven-safe skillet over medium-high heat.
Step 3
Add the chicken breast mixture to the skillet and cook for about 3-4 minutes on each side, or until brown. Remove the chicken from the skillet and set it aside on a plate.
Step 4
Add the Brussels sprouts to the skillet and cook for 3-4 minutes, stirring occasionally, until they start to brown. Add the minced garlic to the skillet and cook for another minute, until fragrant.
Step 5
Pour the chicken broth into the skillet and scrape the bottom of the pan to loosen any browned bits.
Step 6
Return the chicken breast to the skillet, nestling it among the Brussels sprouts.
Step 7
Place the skillet in the preheated oven and bake for 20-25 minutes, or until the chicken is cooked through and the Brussels sprouts are tender. Then Remove the skillet from the oven.
Step 8
Serve with drizzle hot sauce over the chicken and brussels sprouts. Enjoy!