In this post, we would like to cover 5 things:
To better understand, let's call up some basics of diet and physiology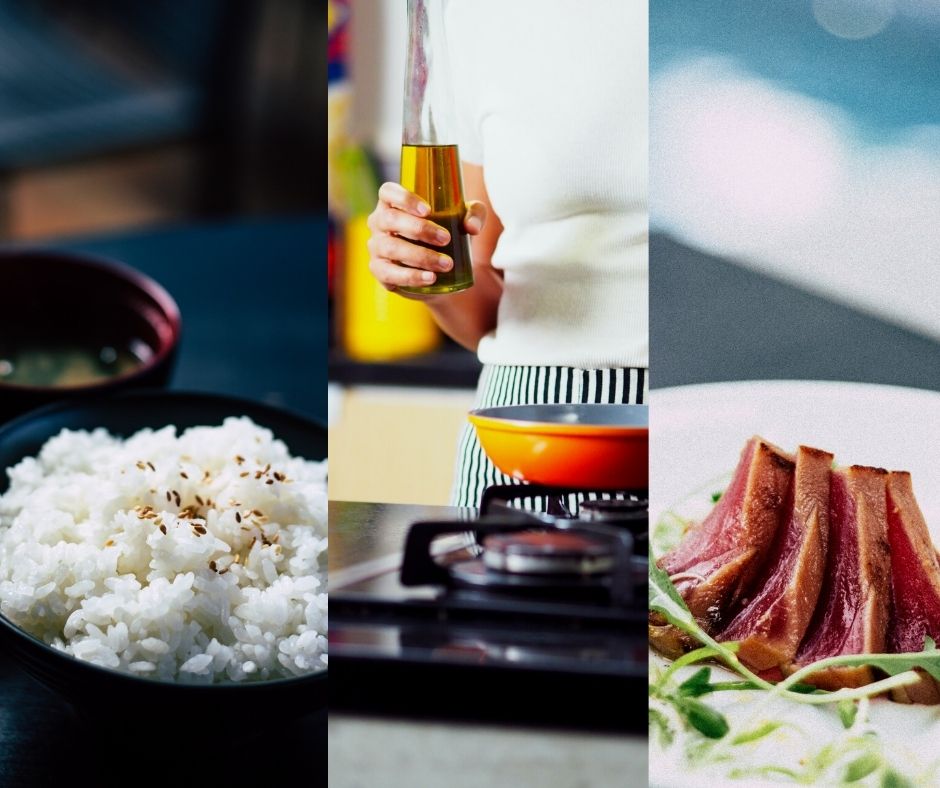 Our body uses three tanks of fuel to produce energy:
Glucose
Fats and
Muscle
Glucose is the most preferred choice. When the glucose tank is empty, the body switches to the muscle tank and then the fat tank for energy production. The problem while following most weight loss and diet programs is, the body is unable to recognize that we want to deplete our fat tank while keeping the muscle tank untouched. The body draws from each of these fuel tanks at the same rate.
So, when on weight loss diets such as Weight Watchers, Jenny Craig, and Nutrisystem, where you are just lowering the number of calories you take, your body muscle and fat will be shrinking at the same rate. And this isn't good news for mainly two reasons:
You lose essential muscle mass that drives your body's metabolism.
You don't become lean as fast as you would when on a fat-targeting diet. It's simply because muscle does not take up as much space as fat.
What's worse about gaining back the weight?
If you gain back the lost weight, you typically gain it back as fat!
If you have lost weight and then gained all of it back, you may have realized that your clothes are a little tighter.
Yes or No?
Also, if you lose that weight once more, you may never be able to put on that favorite pants of yours again, even if you shed a good amount of weight on the scale with your best efforts.
Do you know why?
This same weight but broader size phenomenon exists because the regained weight was FAT (rather than the combination of fat and muscle that you had lost), which is denser and, therefore, takes up more space than muscle.
With the popular "low-fat diets" such as Jenny Craig, WW, or Nutrisystem, we lose an equal proportion of lean muscle mass and fat through a regular 'balanced diet' that lets us keep our present weight. Ideal Protein protocol is different from those as it employs a short-term "unbalanced diet," to draw energy from fat storage while providing our body with the protein needed to protect muscle, ensuring that fat burns for energy production and weight loss. This way, you become leaner more quickly!
An overview of Nutrisystem – Jenny Craig – Weight Watchers – Ideal Protein
1. Nutrisystem
Diet Summary:
28 days program. Packaged low-calorie foods. 6 small meals to be eaten throughout the day.
Nutrisystem started its journey in 1972 and its operations are based in Fort Washington, Pennsylvania.
It began with a brick-and-mortar model, where dieters would meet with weight-loss counselors at locations spread throughout the country. Based on the recommendations, clients purchased food products directly from those locations. By 1999, the company recognized the potential of the online market and started selling products and providing counseling over the phone and digital media.
2. Jenny Craig
Diet Summary:
Lasts as long as you wish to continue. The diet is designed around your current weight, age, gender, height, goal weight, and lifestyle. You can eat anything as long as it falls under daily calorie restrictions.
Jenny Craig was founded in Melbourne, Australia, by Jenny Craig and her husband Sidney, about 11 years after Nutrisystem. By 1985, their weight loss approach migrated to the United States and expanded fast across the country.
Jenny Craig used a similar model to Nutrisystem with coaching locations where their clients could meet with counselors and pick up food items. The Jenny Craig approach too saw a lot of success in helping dieters lose weight. Although they still have in-person locations, they also maintain a strong online presence, offering dieters the option to work with weight loss counselors remotely.
3. Weight Watchers
Diet Summary:
Lasts as long as you wish as it has branded itself as a lifestyle program. Works on a points-assigned-to-food approach. You can eat anything as long as it doesn't exceed the food points assigned to you.
In the early 1960s, Jean Nidetch from New York started a new model where she invited friends to her Queens home and shared tips and tricks to lose weight.
Combining a thorough support with good dietary insights, the group met with success and the idea quickly picked pace. In 1963, Nidetch saw the need for a brand name and started Weight Watchers to spread the idea out of her living room. By 1967, the company earned more than 100 franchises around the world.
Today the company is simply known as WW and is the largest commercial weight-loss program in the United States. The company rebranded itself as WW in 2018 to reflect its evolution from simply being a weight loss company to incorporating a more holistic approach towards achieving overall better health and wellness through better nutrition.
4. Ideal Protein
Diet Summary:
Lasts depending on your goal weight but most dieters spend 1-1.5 years on the three phases. Follows a modified ketogenic diet approach. Eat only the foods from allowed food groups.
The Ideal Protein Diet was created by Dr. Tran Tien Chanh and Olivier Benloulou. Its principles were first used more than 20 years ago by Dr. Chanh, who was looking to create a safer and easier weight loss protocol for his patients.
This diet is considered ketogenic, a regimen that typically involves replacing carb intake with fat to put your body in a state called ketosis. However, Ideal Protein modified the keto by reducing the fat intake and incorporating high-quality, adequate protein.
The three phases of the Ideal Protein protocol are designed to help you set, achieve and maintain your weight loss goals. During the weight loss phase of the Protocol, carbohydrate intake is limited to encourage the body to turn to its fat stores for energy. In the meanwhile, eating Ideal Protein foods, dieters sustain lean muscle mass and also learn how to develop smarter, healthier eating habits and lifestyle choices. The great emphasis put on education and transitioning off diet helps a dieter maintain a healthy weight for years.
Comparison and differences
Jenny Craig vs. Nutrisystem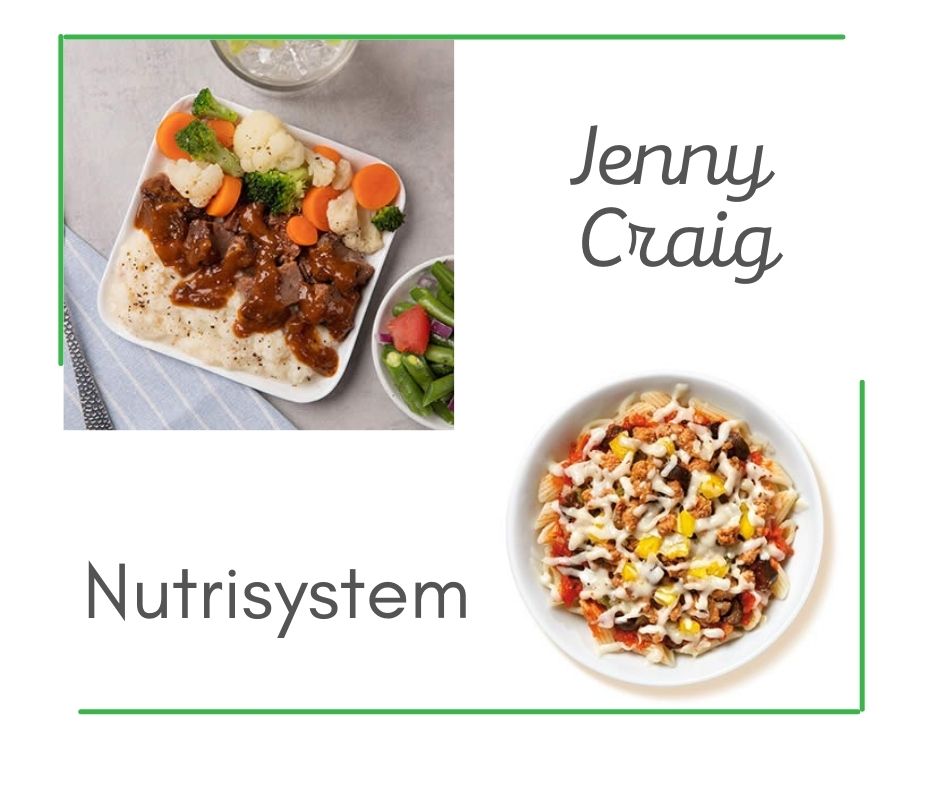 Jenny Craig's meals are based on portion control and are delivered to home. Moreover, consultants educate clients on nutrition and eating habits for lasting health results. Dieters have the option of meeting in person or consulting over the phone or online. The program lasts as long as you need it to be – whether it's 1 month or 3.
Nutrisystem also provides home-delivered meals for the 28-day program. In Nutrisystem's weight loss program, support is available through online consultations as well as forums.
Jenny Craig and Nutrisystem both offer vegetarian and diabetic-friendly meal plans.
Cost comparison: Jenny Craig vs. Nutrisystem
A cost comparison showed Jenny Craig to be a costlier diet compared to Nutrisystem. With Nutrisystem, you can budget around $300–$350/month for food while a month of food on Jenny Craig costs $450 or more.
One can start Jenny Craig at $16 for a 12-week trial. The cost of food adds an additional $15–$20 per day and includes meals and a snack. The premium program normally has a $99 enrollment fee (they often run discounts). Additionally, the program has a $19/month subscription fee with $49 cash-back when you reach the goal weight. All of their programs include consulting, coaching, and premium menus with five meals a day plus your own snack.
On the other hand, Nutrisystem's basic plan comes at a 4-week program that is around $9.29/day, including pre-packaged foods. The second plan is "Uniquely Yours" program that costs $11.07/day and includes more food choices along with unlimited support. Their final tier is the "Uniquely Yours Ultimate" program, which adds 4 weeks of their shakes and frozen meals plus access to their new plan for $13.21 a day.
Success comparison: Jenny Craig or Nutrisystem?
Jenny Craig promotes healthy eating habits for long-term health and wellness – clients lose on average 1–2 lbs/week. But, you can also expect to lose 1–2 pounds per week with Nutrisystem's weight loss program. Both programs offer consultation, while Jenny Craig charges a fee.
All in all, Nutrisystem offers more for money. Also, Nutrisystem has more favorable ratings for the food's taste and quality. Nutrisystem has a "try before you buy" option that allows dieters to taste foods before making choices for the automatic food delivery service.
What studies say
One 2015 study published in the Annals of Internal Medicine found that dieters on the Jenny Craig program experienced at least 4.9% or more weight loss in a 12-month long period compared to the control group. Dieters on Nutrisystem showed at least 3.8% better weight loss at three months than the control group. In this analysis, the researchers concluded that Jenny Craig came out ahead of Nutrisystem.
Another research study published in the Journal of the American Medical Association revealed that dieters on "Jenny Craig Classic" programs lost three times more weight than people dieting on their own and had a weight loss of 10% on average after one year. These results also indicate a reduced risk for various chronic diseases including diabetes, cancer, depression, and stroke. The weight loss also resulted in improved cardiopulmonary function.
A third study focused on Jenny Craig's program for people with Type 2 diabetes was published in 2014 in the journal Diabetes Care. It found that type 2 diabetics who followed Jenny Craig's Type 2 program for one year, lost more weight, significantly lowered blood sugar levels, and reduced heart disease risk factors than people receiving a typical standard of care.
Nutrisystem vs. Weight Watchers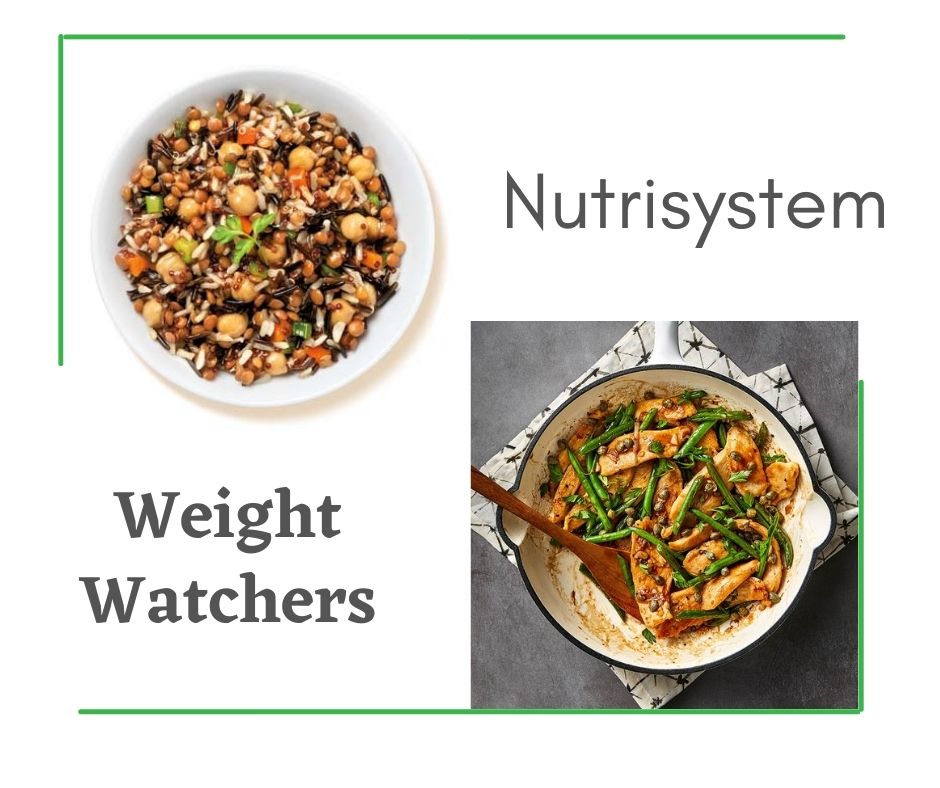 As told earlier, Nutrisystem provides home-delivered meals, whereas WW or Weight Watchers provides support and instructions for dieters to make their own meals and healthy eating choices. Both provide vital education on nutrition, exercises, and healthy living.
Nutrisystem and Weight Watchers both offer weight loss services and diet products in person as well as online. However, the main difference is that Nutrisystem programs offer 28 days model with home-delivered meals.
WW, on the other hand, provides a program along with related products and services. The program offers methods for tracking food intake, education about nutrition and healthy dietary choices, and methods for making healthy meals. One unique thing is, WW also promotes fitness and sells athletic equipment as well.
Cost comparison: Nutrisystem vs. Weight Watchers
A cost comparison shows Weight Watchers costs much less. However, it's important to remember that both programs have different structures.
Weight Watchers offers an online program for $3.30/month or you can also add weekly in-person weigh-ins and meetings for $6.77. Weight Watchers also offers personal coaching for $9.23/week.
Nutrisystem is about $300–$350 a month. The basic plan comes at a 4-week program that is around $9.29/day, including pre-packaged foods. The second plan is "Uniquely Yours" program that costs $11.07/day and includes more food choices along with unlimited support. Their final tier is the "Uniquely Yours Ultimate" program, which adds 4 weeks of their shakes and frozen meals plus access to their new plan for $13.21 a day.
Success comparison: Nutrisystem vs. Weight Watchers
For those who want flexibility in dietary restrictions, Weight Watchers is the way to go. You will make your own meals that allow adaptability to meet personal needs. However, this freedom also requires planning and preparing meals.
Nutrisystem offers prepared, packaged meals that have favorable ratings for taste and quality. As mentioned, they offer a try-before-buy option which grants dieters options to taste available food products before choosing meals to be delivered through automatic delivery service.
Our take is, consider your needs as well as motivation for weight loss before selecting one. Nutrisystem and Weight Watchers are just two of the many programs available to help you meet your weight loss goals.
Weight Watchers vs. Jenny Craig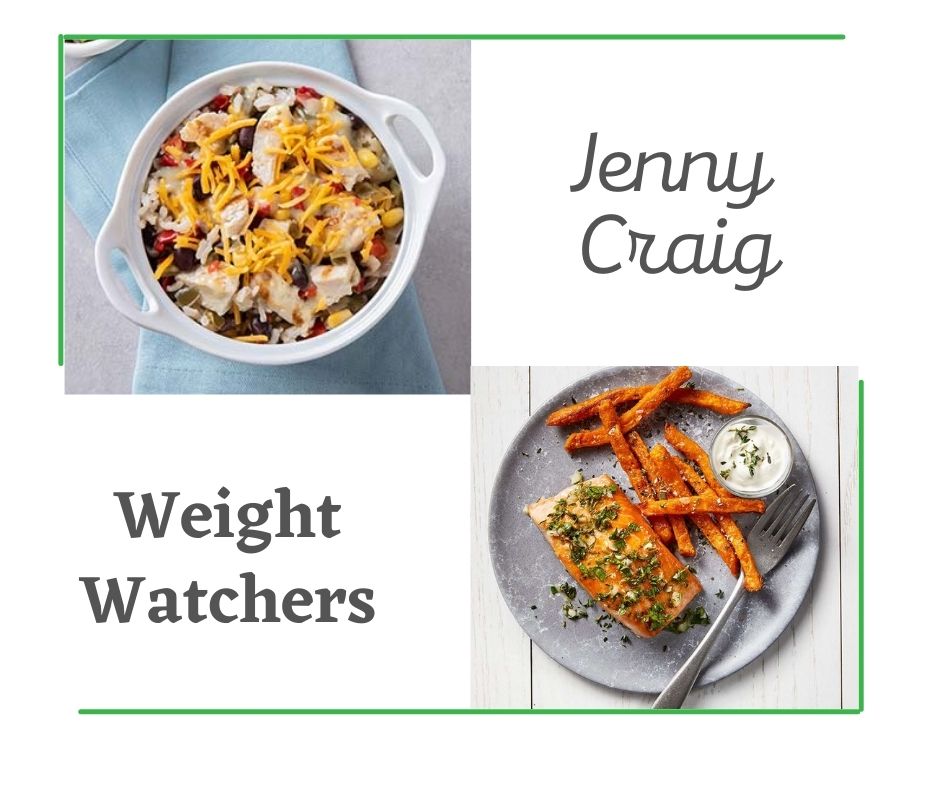 While WW uses a simplified calorie-counting system that is personalized based on a dieter's age, weight, height, and sex, Jenny Craig eliminates the guesswork and provides portioned, prepared meals that are delivered to your home. Rather than promising specific weight loss results, Jenny Craig promotes teachings of healthy living, nutrition, and weight management.
Cost comparison: Weight Watchers vs. Jenny Craig
Comparing the two programs reveals Jenny Craig costing an average of $15 a day for food with a $99 sign-up fee while Weight Watchers offers $7 to $15/week (depending on location) for in-person meetings.
WW also offers an online program that costs around $3/week and does not have mandatory food purchases. Rather, it provides recipes and meal plans to make at home. Jenny Craig users may also pay extra fees for in-person consultation and support services through their "Super Premium" program while Weight Watchers includes such facilities included in their weekly meetings and online programming.
Success comparison: Weight Watchers vs. Jenny Craig
If you are looking for the easy, Jenny Craig is clearly the choice. But if you want flexibility and have dietary concerns, Weight Watchers is more alluring. However, that flexibility comes at the cost of more planning, prepping, and cooking.
The best choice for you really comes down to your individual goals and priorities. Both programs educate on healthy living, offer training for lifelong nutrition and diet management. However, WW's in-person meetings and the online support are included in the basic subscription fees, while you have to pay extra for that added support with Jenny Craig.
Overall comparison of these 3 diets
Let's see how ConsumerAaffairs compares these programs:
Most convenient: Jenny Craig
Jenny Craig's program comes with weekly 1-on-1 counseling sessions with certified consultants, and a personalized meal and exercise plan. They have convenient pre-packaged meals, which are eaten during the first half of the diet. Some foods are cinnamon rolls and homestyle beef pot roast, which helps you stay on track while keeping you satisfied with your favorite foods on the menu. The second half of the program focuses on transitioning back to home-cooked whole foods.
Most popular: Nutrisystem
Nutrisystem eliminates the guesswork for healthy eating by mailing the "perfect-portioned" meals to your door. Their plan for women includes 4 meals per day, which means eating every two/three hours to promote greater weight loss and maintenance.
Most freedom: Weight Watchers
Goes best for strict dieters, people with gluten-free, vegetarian, or vegan dietary needs. WW promotes and encourages healthy eating through a tracking system. This fit-point system helps you understand what you eat on a daily basis and the value of each food you eat, which in turn educates participants on healthier eating habits without too much restriction.
A dieter's personal experience with Ideal Protein
Not long ago, I reached a 55-pound weight loss milestone on Ideal Protein's low carb, adequate-protein diet approach. I previously thought I needed to lose 15 more pounds to put on my "favorite pants". One day, I decided to try them on, and to my surprise, they FIT perfectly. The reason is that I had been losing only fat, so I'm decreasing in size more quickly than I would have by dropping the same amount of weight on Jenny Craig, WW, or Nutrisystem.
All these diets are nothing new to me. Before finding Ideal Protein, I have followed all the low carb and low-fat diets mentioned above to lose weight, but I must admit, while I gave my best to them, it wasn't easy. Between constantly thinking about food, and packing my schedule with exercise, I barely had time for anything else.
But unlike others, the Ideal Protein Weight loss protocol does not come with any strenuous exercise regimen.
Note: we are not telling you not to exercise and turn into a couch potato. We are saying that you won't have to kill yourself with rigorous exercises to lose weight.
Lastly, I went through various weight loss protocols, the cost of the diet, and the time it takes to achieve weight loss. As you can see, Ideal Protein proved to be the cheapest diet protocol you can opt for.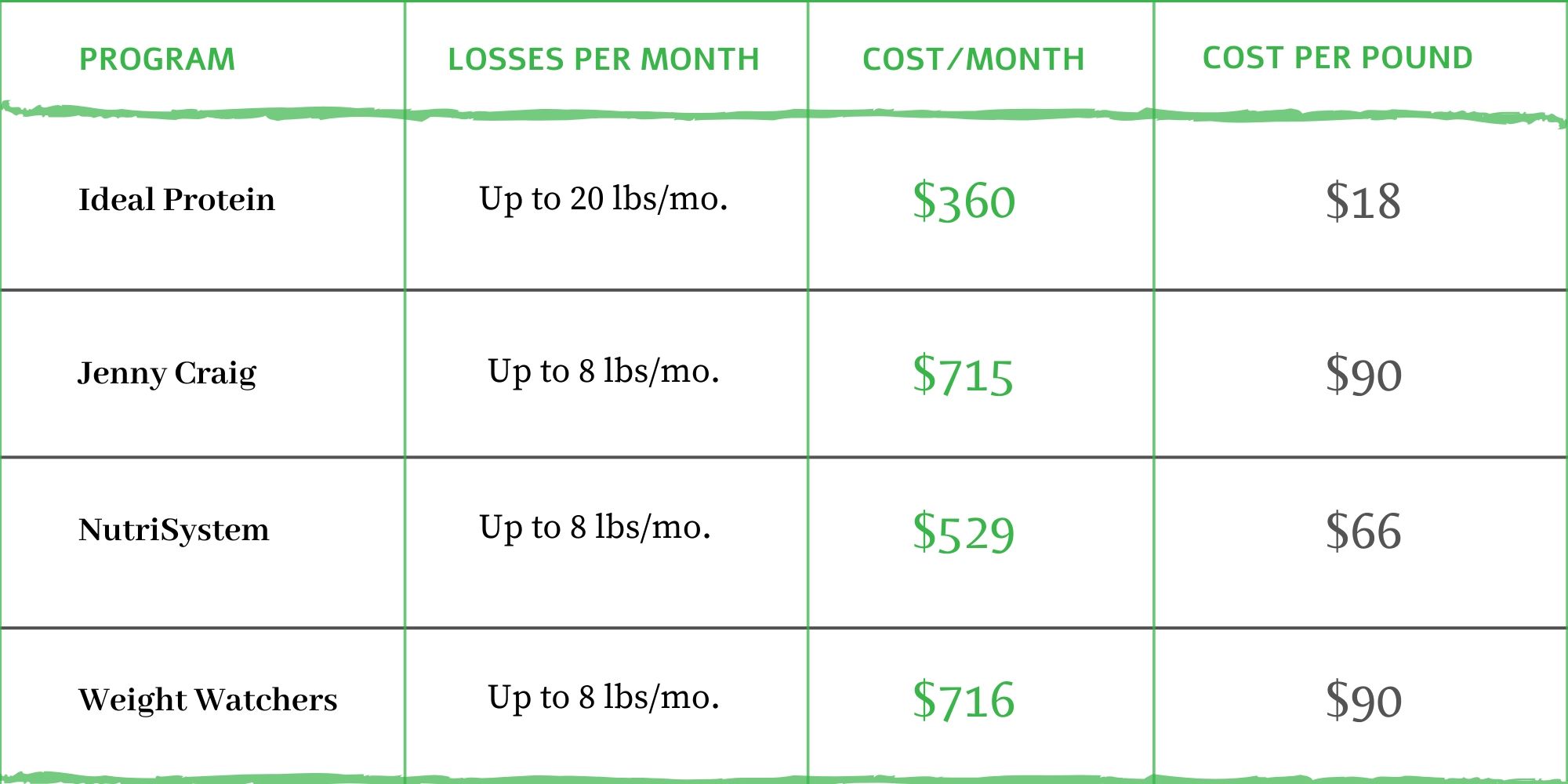 Ideal Protein educated me
The beauty of Ideal Protein is that it is scientifically designed while being a low-carb diet. Moreover, all of the coaches receive training that focuses both on the science of losing weight and behavior changes to achieve and maintain the weight loss best way possible. I can feel that things are different for me this time.
Working with my coach I was able to learn the underlying mechanisms that granted me the best way to lose weight and taught me the real lifestyle changes essential for my maintenance. Believe it or not, having one day of freedom every week and the tools for damage control make it effortless to maintain my results.
Comparing this with my experience with the others:
Weight Watchers is run by other lifetime dieters who were successful in maintaining their weight by dieting. My goal was different, I was done dieting and living on a diet.
Jenny Craig and Nutrisystem were the same but different. I didn't have the meetings or coaching for support but had the help of cooking by eating the ready-to-eat meals. While it was easy and convenient, as soon as I would stop receiving my deliveries, I was back to my old habits and the scale would creep back up twice as quickly as it went down. So frustrating!!!
Conclusion
As can be seen, all the above programs have their merits and demerits. It's completely upon you to choose which one suits your lifestyle and goals better.
For Ideal Protein though, you can always take a free 15-minute consultation at BioIntelligent Wellness. Set up an appointment as per your flexibility.