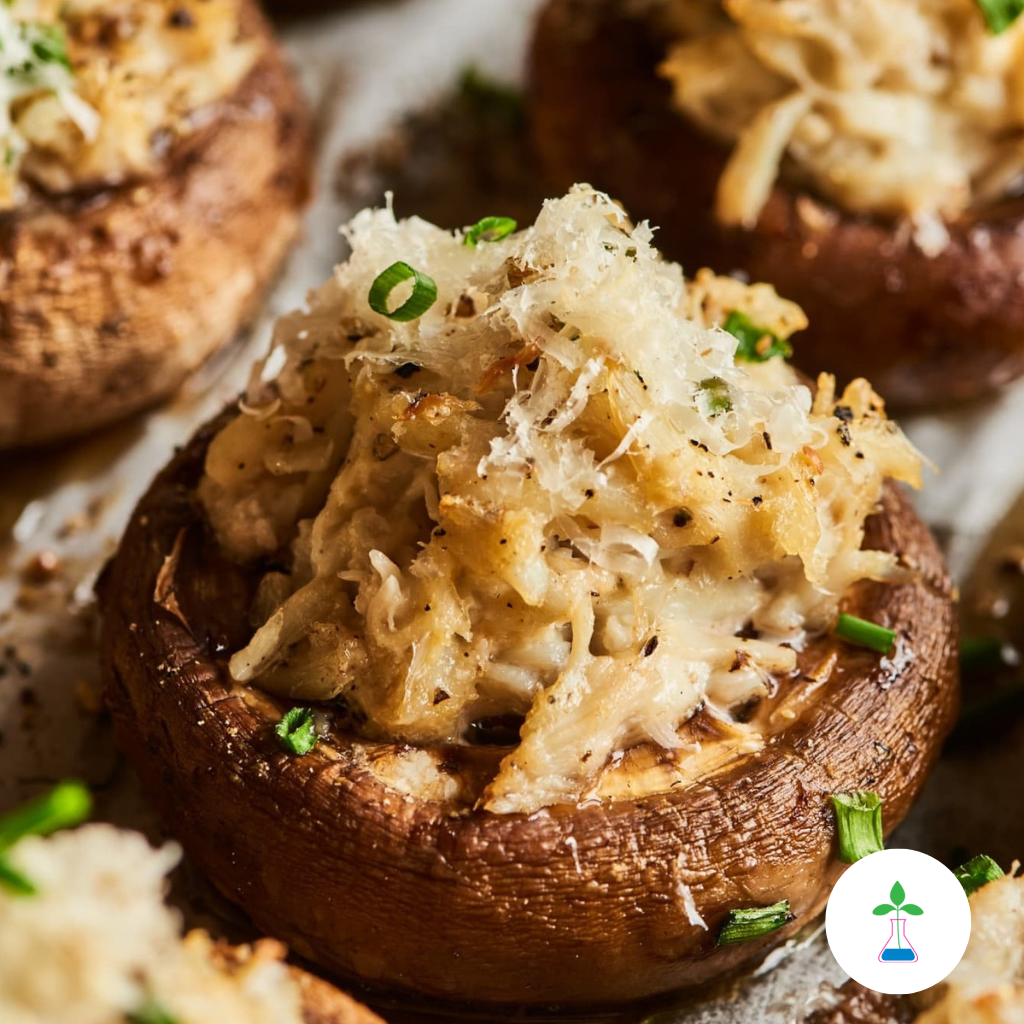 Crab Stuffed Portobello Mushrooms
Indulge in a guilt-free, protein-packed meal with these Crab Stuffed Portobello Mushrooms. With the perfect blend of flavors and textures, this dish will satisfy your cravings. Try it out and treat yourself to a delicious and healthy meal!
Allowed for all Ideal Protein phases.

Ingredients
4 portabella Mushroom Caps
Olive Oil
1 egg
1/4 cups chopped celery
1/4 cups chopped red bell pepper
2 tbsp. chopped fresh parsley
1 tbsp. chopped fresh dill
1 tbsp. approved mayonnaise
2 tbsp. dijon mustard
2 tbsp. lemon juice
1 tbsp. worcheshire sauce
1 tbsp. old bay seasoning
1 tsp. onion powder
1 tsp. garlic powder
1 tsp. sea salt
1 tsp. black pepper
1 tsp. paprika
8 ounces  lump crab meat
1/2 cups ideal protein croutons
Lemon wedges to taste

Preparation
Step 1
Clean and scrape off the gills on the inside of the portabella mushroom caps
Step 2
Lightly drizzle with olive oil and sprinkle with sea salt on the cleaned portabella mushroom caps
Step 3
In a bowl, combine the eggs, celery, red bell pepper, parsley, dill, Approved mayonnaise, Dijon mustard, lemon juice, Worcestershire sauce, old bay seasoning, onion powder, garlic powder, sea salt, black pepper, and paprika
Step 4
Fold in the lump crab meat and crushed Ideal Protein Croutons. Cover with plastic wrap and refrigerate for at least 1 hour.
Step 5
Preheat the oven to 350°F. Once the crab filling is set, scoop the crab filling into each portabella mushroom cap. Bake for 20 minutes until mushrooms are tender.
Step 6
Sprinkle old bay seasoning on top and serve with lemon wedges.