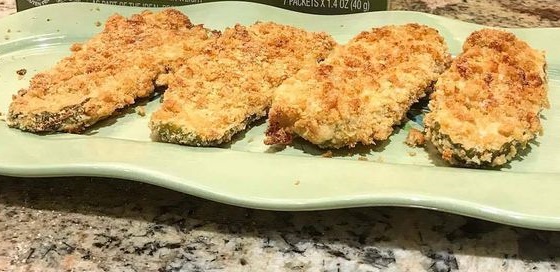 Fried Pickles
A surprise and tasty snack recipe for those craving some spicy treat. Fried Pickles are a great option to tame that afternoon hunger and still stick to the track. Absolutely easy to prepare and allowed for all Ideal Protein phases.
Happy snacktime!!!

Ingredients
1 Ideal Protein Ranch Dorados
1 egg
Dash of Garlic salt
Dash of Cajun seasoning
2 cups dill pickles, sliced

Preparation
Step 1
Preheat oven to 400°F and line a cookie sheet with parchment paper and spray with cooking spray.
Step 2
In a food processor, blend Ideal Protein Ranch Dorados to a fine powder.
Step 3
In a small bowl, beat the egg with Cajun seasoning, Garlic salt.
Step 4
Dip the pickle slices in egg, and then press them into crushed Ranch Dorados crumb mixture, coating completely.
Step 5
Place slices on the cookie sheet.
Step 6
Bake for 12-15 minutes.
Step 7
Serve with Walden Farms Ranch and Enjoy!