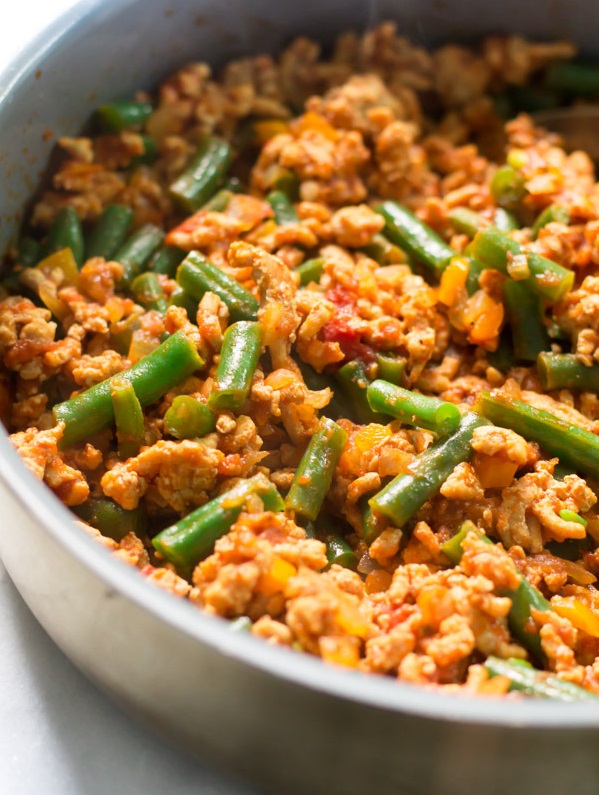 Ground Turkey Skillet with Green Beans
This Ground Turkey Skillet with Green Beans recipe is gluten-free, low-carb, packed with protein, and tastes just amazing. It's definitely easy to prepare and fits perfectly for your family dinner. Add some Stir-Fried Cauliflower Rice for a complete meal experience.
Allowed for all Ideal Protein phases.

Ingredients
2 tbsp. extra-virgin olive oil
1 lb extra-lean ground turkey or use diced up left-over turkey
1 tsp. clove garlic – minced
1 tsp. onion powder
1 ½ cup yellow pepper – diced
1 ½ cup green beans – chopped
¾ cup crushed tomatoes (no sugar added)
Salt and pepper – to taste
A pinch of chili pepper

Preparation
Step 1
In a skillet, heat olive oil over medium-high heat.
Step 2
Add ground turkey and break it up until it's in small pieces or heat up the diced leftover turkey.
Step 3
Once the turkey is almost cooked through, add onion powder and garlic and stir occasionally.
Step 4
Add yellow peppers, green beans, and tomato sauce.
Step 5
Cover the skillet and cook until they are tender.
Step 6
Add salt, pepper, and chili pepper to taste.