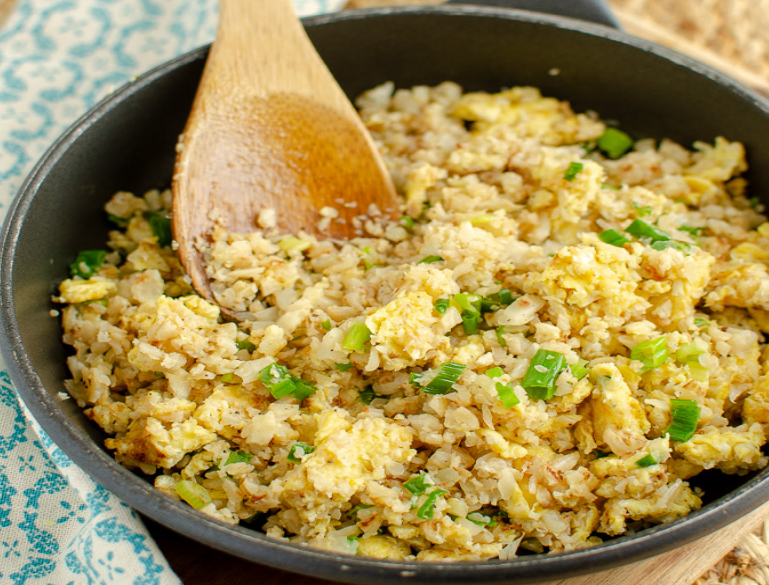 Stir-Fry Cauliflower Rice
The stir-fried Cauliflower rice is an excellent nutritious alternative to plain rice – low in carbs – high fiber and delivers various antioxidants. This savory Ideal Protein cauliflower recipe is perfect for meal planning in all phases.
Enjoy with Orange Chicken or Basil Lime Chicken for a complete meal experience.

Ingredients
2 cups of Cauliflower Rice
2 Garlic Cloves
2 tsp. Olive Oil
1/2 tsp. Onion Powder
1 egg
1 tsp. Ground Ginger
1 tsp. Walden Farms Asian Dressing
3 tsp. Soy Sauce
Salt & Pepper to taste
1 tsp. Chives

Preparation
Step 1
In a Wok or large non-stick skillet, heat the oil over medium heat
Step 2
Add the cauliflower and garlic
Step 3
Stir-fry until the cauliflower is tender, not mushy
Step 4
Stir in the Soy Sauce, adding spices to taste
Step 5
Move the cauliflower to one side of the pan
Step 6
Crack an egg in the pan and scramble slightly
Step 7
Mix, adding the onion powder
Step 8
Serve & enjoy! Phases 1-3