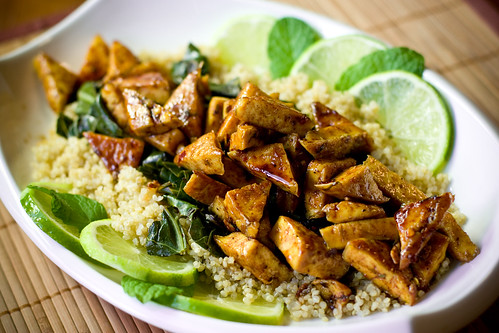 Sweet Chili Lime Tofu Recipes
Ideal Protein Tofu recipes are one of the most popular ones amongst dieters due to their vegetarian compliance.
Sweet Chili Lime Tofu is a perfect way to spice up your meal while packing a lot of protein. This vegan recipe is absolutely amazing, way easy to prepare, and it fits into all Ideal Protein phases.
**Can serve with any approved veggies or over cauliflower stir-fried rice.

Ingredients
1 packet of extra-firm tofu, about 14 ounces.
3 tablespoons of Stevia.
3 tablespoons of soy sauce.
2 tablespoons of fresh lime juice.
½ lime, zested
½ tablespoons red chili flakes.
1 clove of garlic, minced.
¼ tablespoon of salt.
4 mint leaves, sliced thin.

Preparation
Step 1
In a bowl, whisk together the soy sauce, lime juice, Stevia, chili, garlic, mint, and salt.
Step 2
Make sure that the stevia and salt are dissolved and set aside.
Step 3
Heat a cast-iron pan over medium heat until hot.
Step 4
Drain the tofu completely dry and cut into small thin triangles.
Step 5
Spread tofu over the pan, and press it gently using a spatula to squeeze out excess liquid.
Step 6
Let this liquid boil and dissolve.
Step 7
Continue pressing the tofu for 5 minutes, then flip and repeat for the other side.
Step 8
Pour in the sauce and stir until the tofu is fully coated.
Step 9
When the sauce begins to bubble, turn off the heat.
Step 10
That way, it will reduce slightly and form a glaze.
Step 11
Serve hot or warm.