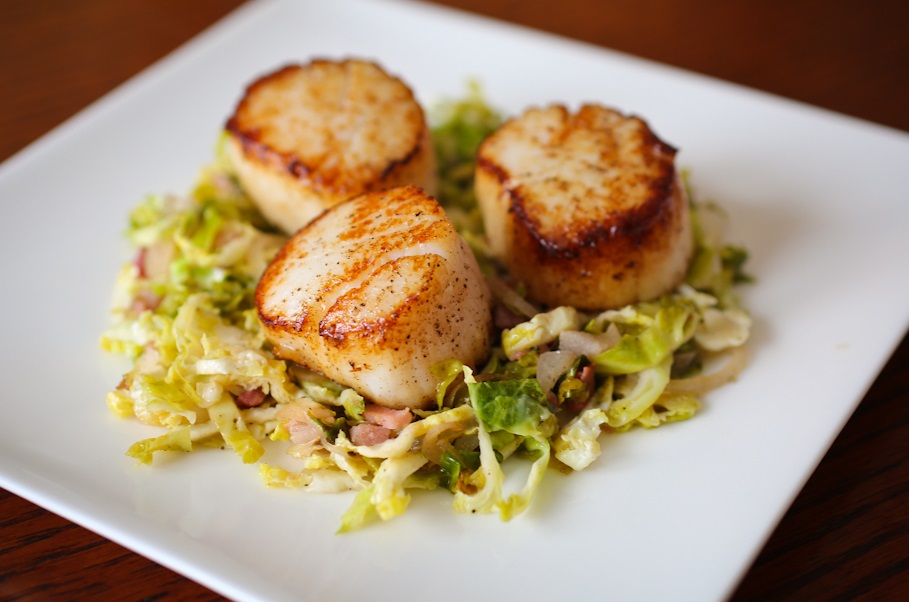 Seared Scallops with Steamed Brussels Sprout Leaves
Seared Scallops deliver lots of protein and the combination of steamed brussels sprout leaves makes it a superb delicacy. Approved for Ideal Protein phase 1 to 3.

Ingredients
1 lb. brussels sprouts, trimmed
5 tbsp. olive oil
8 medium sea scallops (about 1 lb.)
IP salt
Freshly ground black pepper
1 tbsp. fresh lemon juice, plus zest of 1 lemon
4 tbsp. I Can't Believe It's Not Butter
1 (1½") piece ginger, peeled and grated
1 tbsp. soy sauce

Preparation
Step 1
Using a paring knife, and working with 1 sprout at a time, insert the tip of the knife just outside the stem end of the sprout and twist the sprout around the knife to release the core.
Step 2
Using your fingers, separate individual leaves and set aside; discard cores.
Step 3
Heat 2 tbsp. oil in a 12″ non-stick skillet over high.
Step 4
Season scallops with salt and pepper.
Step 5
Cook for 4–6 minutes until browned, flip once in between.
Step 6
Meanwhile, bring a 4-qt. saucepan of salted water and boil it.
Step 7
Cook the leaves for 1 minute
Step 8
Drain and transfer to a bowl.
Step 9
Stir in remaining olive oil, lemon juice, salt, and pepper.
Step 10
Divide scallops and leaves between plates; keep warm.
Step 11
Add I Can't Believe It's Not Butter to skillet and melt over medium-high.
Step 12
Cook ginger for 1 minute.
Step 13
Stir in soy sauce and pepper.
Step 14
Put sauce over scallops and garnish with lemon zest.