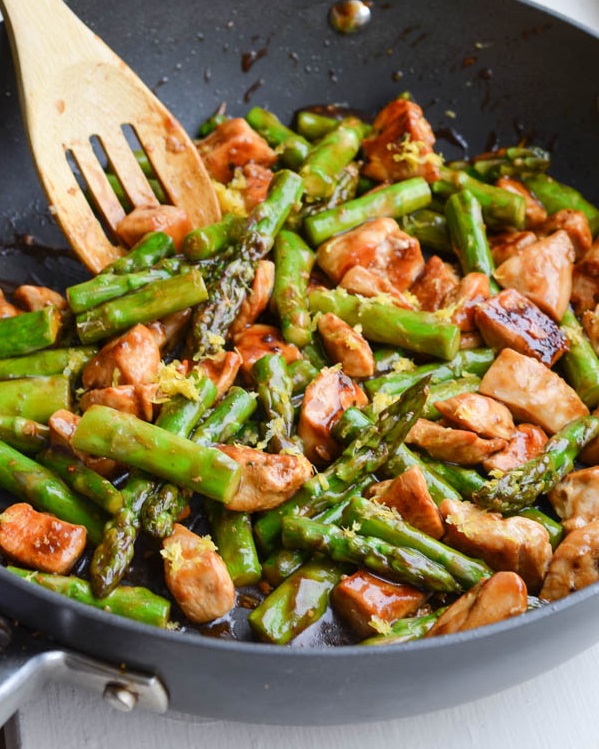 Stir-Fried Lemony Chicken with Asparagus
A simple yet protein-filled, delicious meal idea for the Ideal Protein dieters. The Lemony Chicken with Asparagus fits right for a quick and spiced-up Lunch or Dinner plan.
Approved for Ideal Protein phases 1-3. Try some and share your experience.

Serving size

Ingredients
4 chicken breasts – boneless, skinless, cubed

Kosher salt – to taste

½ cup chicken broth

2 tbsp. low-sodium soy sauce

2 tbsp. water

1 tbsp. canola oil

1 bunch asparagus – cut into 2-inch pieces

6 cloves garlic, minced

3 tbsp. fresh lemon juice

Lemon zest

Salt & pepper

Preparation
Step 1
Cook asparagus and oil in a skillet over medium heat for 3-4 minutes and add garlic when 1 minute remains. Set it aside.
Step 2
Season chicken with salt & pepper and put heat to high and cook chicken until browned then set aside.
Step 3
Add soy sauce and chicken broth to a skillet and bring to boil for about 1 minute.
Step 4
Add lemon juice, water, and soy sauce and stir for about 1 minute.
Step 5
Return chicken and asparagus to the pan.
Step 6
Coat with sauce and top with lemon zest.
Step 7
Serves 4. Enjoy the taste!