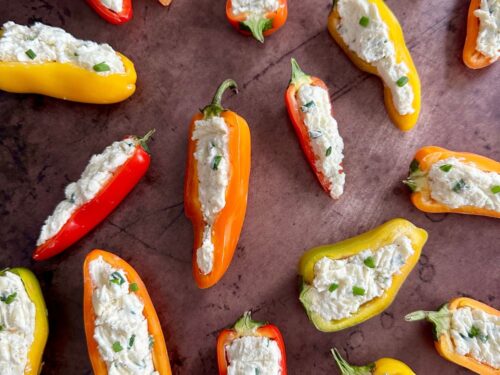 Chicken Salad Stuffed Baby Bell Peppers
Stuffed Baby Bell Peppers with Chicken Salad is a healthy and flavorful appetizer or light meal that features mini bell peppers stuffed with a creamy and delicious chicken salad. This dish is not only easy to make but also packed with protein and veggies, making it a perfect option for a light lunch, snack or party appetizer.
Allowed for Ideal Protein phases 1 to 3.

Ingredients
1 Can Chunk Chicken Breast
1 small Jalapeno Pepper, Diced
3 Green Onions
2 tbsp. Approved Mayonnaise
4 Baby Bell Peppers

Preparation
Step 1
In a mixing bowl add chunk chicken breast, jalapeno pepper, diced green onions, and mayonnaise. Mix these very well and keep it aside.
Step 2
Cut baby bell pepper in half with a knife and stuff each half with chicken mixture.
Step 3
Mix each half of the remaining green onion to garnish stuffed baby bell peppers.
Step 4
Serve baby bell peppers.