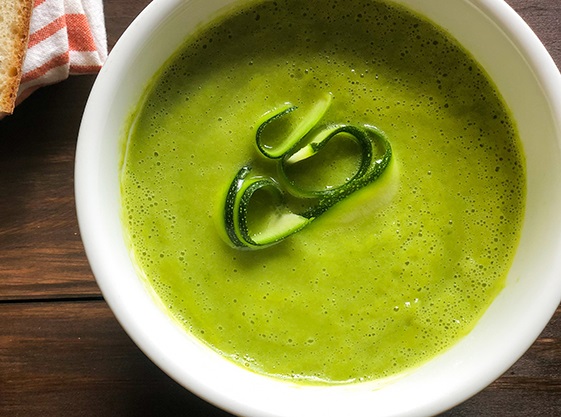 Zucchini Soup
Zucchini soup is a delicious and healthy way to enjoy vegetables, and can be served as a starter or light lunch option.
Allowed for Ideal Protein phases 1 to 3.

Ingredients
1 tbsp. olive oil
2 tbsp. extra-virgin olive oil
1 leek – finely chopped
1 garlic clove – thinly sliced
Kosher salt
Freshly ground pepper
1½ lb. zucchini – halved lengthwise and sliced 1/4 inch thick
2/3 cup vegetable stock or low-sodium broth
Julienned raw zucchini – for garnish

Preparation
Step 1
In a large saucepan, heat up the olive oil and add the leek and garlic. Season with salt and pepper and cook over moderately low heat – stir frequently, until softened, for about 7 to 8 minutes.
Step 2
Now add the zucchini and cook while stirring frequently, until softened for about 10 minutes.
Step 3
Add the stock and 1½ cups of water and bring to a simmer.
Step 4
Cook until the zucchini becomes very soft, about 10 minutes.
Step 5
Work in 2 batches if necessary and puree the soup in a blender, until it's silky-smooth.
Step 6
Return the soup to the saucepan and season with salt and pepper.
Step 7
Serve hot or chilled, garnish with julienned zucchini.